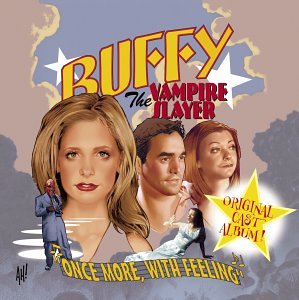 I've been gaga over the Once More With Feelingepisode. Even before watching season 6 I watched OMWF and I loved it. Even way before watching season 5 and knowing about (spoilers, close your eyes!) Buffy's death, or Spike and Buffy hooking up, I watched OMWF and I loved it.
For me it is so hard to explain why Buffy-the-show is so empowering and meaningful. But it is. I think that is one of the main reasons every time I feel down or depressed, even weak, for years, a song has been a recurrent playing on my cd player/ipod/iphone. That song is Walk through the fire. As Buffy I am a girl. I am scared. I have to face life and gee, that's scary. So scary at times. And I do it alone. As Buffy, I have friends; but they have their own problems, they face their own lives; when it counts, they are close to help me face the fire, even when, as all the scooby gang, they don't know what my fire is.
But at the end, when I walk through the fire, I can't help but feeling all by myself. But this is when Buffy comes, this is why Buffy-the-show feels empowering:
Angelus: Now that's everything, huh? No weapons… No friends…No hope. Take all that away… and what's left?
Buffy: Me.